Wired room sensors
The RG room sensor is connected to the system via a two-wire bus. It measures the room temperature and transmits the data continuously to the central unit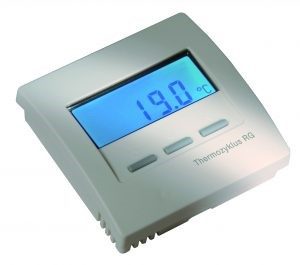 Desired temperature setting in 0.5 °C steps, display of target and actual temperature, mode switching (day to night or antifrost) on a room-by-room basis, adaptable display to customer requirements (e.g. only displaying the target temperature and its adjustment for hotel applications), display lights in 256 freely chosen colours.
Also exists in RG-FF version with integrated humidity sensor.
The blind RS room sensor is also connected to the system via a two-wire bus. It also measures the room temperature and transmits the data continuously to the central unit but without a display and control buttons, it makes every undesired target temperature adjustment impossible in the room itself.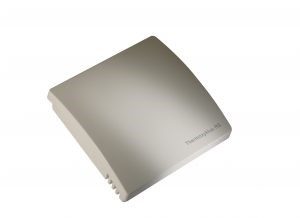 Its setting is only possible through the ZE central unit. Especially suitable for public spaces, schools, offices, and kindergartens…
Also exists in RS-FF version with integrated humidity sensor.
La built-in RS-D sensor is an RS integrated in customer's switch program – elegant, simple, efficient!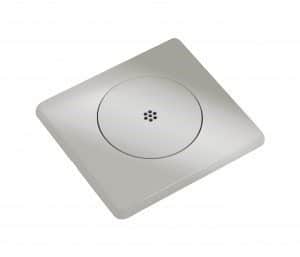 The RS technology is built in almost every kind of switch program (free surface on the back of the hood and some space in the housing needed).Hager, Siemens, Legrand, Schneider… everything is possible.
Compatibility : contact us.
The RGM/RSM built-in sensors combine the Thermozyklus technology and the unique design of French electrical apparatus specialist MELJAC.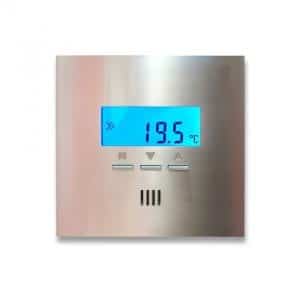 Their high-quality finish makes them optimal for hotels and design demanding customers.
Available with display : RGM (picture) – without display : RSM – with integrated humidity sensor : RGM-FF / RSM-FF.
Wireless room sensors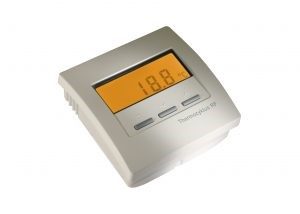 The wireless RF room sensor is installed within the room to be controlled – or fixed onto the wall. It transmits the target and the actual temperature to the FE radio receiver wirelessly (frequency 868 MHz) – always necessary with wireless components (see Communication Menu).
The current temperature is displayed. The target value appears at the push of a button. Cables are no longer needed – especially important for retrofitting or renovation. Customized display variants can also be created, as with the wire-connected RG room sensor.
The RF also exists in RF-OD version with blind cover to avoid any unwanted manipulation.