Context
Various EU-Directives and National Regulations regarding energy saving and energy performance of buildings require proof of energy efficiency. These requirements and rising energy costs are encouraging owners and occupiers of buildings to reduce their energy consumption. The cost for energy will be a critical factor in property rental in the future.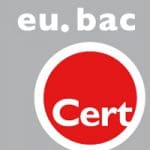 In response to these requirements, eu.bac – the European Building Automation and Controls Association – set up the European Certification Scheme for Building Automation and an European Energy Efficiency Label for Home Controls and Building Automation Products and Systems.
Aim
The eu.bac Certification Mark and Label assures users the conformity of products and systems defined in European Directives and European Standards. The registered eu.bac Cert Mark is a symbol that expresses Energy Efficiency and Quality. eu.bac Cert Mark is the European Quality Label for products and systems in the area Building Automation and Controls.
Certification process
The Certification Procedure requires periodic tests and factory inspection by third parties and an accredited Certification Body.
To achieve this, eu.bac cooperates with the leading European Certification Bodies Intertek Certification Services (UK), Centre Scientifique et Technique du Bâtiment – CSTB (F) and WSPCert (D). The eu.bac empowered Certification Bodies operates in accordance with EN 45011 and they are accredited by the International Accreditation Forum (IAF).  eu.bac authorized Test Laboratories are BSRIA (UK), C.S.T.B Lab (F) and WSPLab (D).
Possible results for the certification range from 0 to 2 K.
More information: www.eubac.org and www.cstb.fr